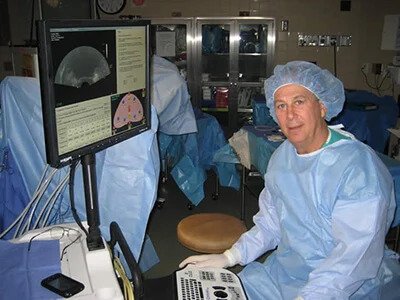 What is cryotherapy?
Cryotherapy for prostate cancer is not major surgery. In fact, it's a minimally-invasive treatment that is performed as a same-day outpatient procedure. With cryotherapy, there is no open surgery and no radiation beams or radioactive seeds. There is little or no pain, side effects minimal, and recovery is rapid.
About Dr. Amery Wirtshafter
Miami urologist, Dr. Amery Wirtshafter is the director of the cryosurgical program at Urological Consultants of Florida and has been performing cryosurgical procedures for prostate cancer for nearly a decade. He is an international leader in the field of cryosurgery of the prostate having performed nearly 1000 cases. He is the most experienced urologist performing cryosurgery in Miami, South Florida, and likely the southeastern section of the United States and beyond into the Caribbean and South America. Because of his expertise in cryotherapy for prostate cancer, he has been called upon to proctor other physicians throughout the United States, the Caribbean, and South America as well as lead regional training workshops on cryotherapy. Dr. Wirtshafter's outcomes with regard to prostate cancer cure, urinary continence, and potency have led patients from around the world to South Florida to have their prostate cancer treated by him.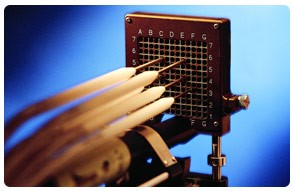 How is cryotherapy performed?
During the procedure, Dr. Wirtshafter inserts thin probes into the prostate gland. Guided by ultrasound imaging, the tip of the probe is precisely positioned near the cancerous tissue. Argon gas is then circulated inside the probe to generate a teardrop of ice cold enough to freeze all of the cancer cells. If the cancer is limited to a portion of the prostate, it may be possible to freeze only the cancerous tissue, while the remaining prostate stays healthy ("the male lumpectomy"). If prostate cancer is found throughout the gland, Dr. Wirtshafter may choose to freeze the entire prostate.
Staying warm inside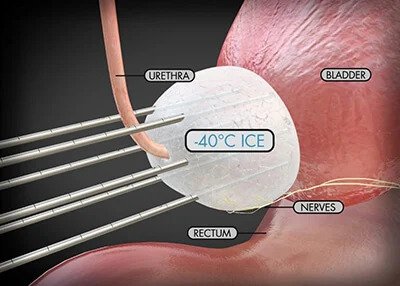 During the freeze, temperature sensors carefully monitor the body and precisely determine when target temperatures have been reached. A special warming catheter is used to protect the urethra from cold temperatures, helping to maintain urinary function. If the cancer is limited, nearby nerves may be preserved helping to maintain sexual function and speeding your recovery to a normal life.
Concierge cryotherapy experience
For those patients traveling long distances to have surgery with Dr. Wirtshafter, we strongly encourage you to call and inquire about our concierge cryotherapy experience. Remember that cryotherapy of the prostate is an outpatient procedure and recovery is rapid. We are happy to help you to maximize your experience during your stay in beautiful Miami Beach by helping you plan hotel and restaurant reservations as well as leisure activities.
---
Frequently Asked Questions About Prostate Cancer Treatment
CRYOABLATION OF THE PROSTATE
What is prostate cancer?
Prostate cancer is a condition in which malignant cells form in the prostate, one of the male reproductive glands. These cells form a lump or mass called a tumor that can grow directly through the prostate gland and spread cancer cells to surrounding tissue, including the rectum and bladder. This year, nearly 230,000 new cases will be diagnosed with prostate cancer and 28,000 American men are expected to die of this disease.
How is prostate cancer treated?
Several options are available. Because some men have aggressive forms of prostate cancer, while others have slow-growing cancer, patients should consult their physician to determine which treatment is most effective for them. Ideally, the treatment should cure the disease, be easily tolerated and cause minimal problems for the patient for the remainder of his life.
Current options include cryoablation of the prostate (cryotherapy), radical prostatectomy, radiation (external beam or internal seed implants/brachytherapy). While radical prostatectomy (surgical removal of the gland) is the "gold standard" for the treatment of prostate cancer, many men want a less invasive choice with faster recovery, less severe side effects, and fewer complications.
Is "cryoablation" the same as "cryotherapy"?
Yes. These words are interchangeable. New techniques in treating tumors are minimally invasive. When cancer is killed within the body instead of being surgically removed, it is called percutaneous tumor ablation. Cryoablation delivers a lethal freeze to cancer cells without major surgery. It is also called cryosurgery, although no major surgery is involved, or cryotherapy, since it can cure the body of cancer.
Is prostate cryotherapy experimental?
It is not experimental. There is long-term success data, and cryotherapy is covered by Medicare.
How does targeted cryoablation treat prostate cancer?
Cryoablation of the prostate is the application of extreme cold to destroy tissue in combination with ultrasound guidance and temperature monitoring to precisely destroy cancer cells in and around the prostate gland. During cryoablation, prostate tissue is destroyed, including cancerous cells. Physicians have found that cryoablation of the prostate is most effective for patients with Stage T1 through T3 prostate cancer. It is repeatable if cancer recurs. During targeted cryotherapy of the prostate, a patient is first anesthetized. A thin catheter that circulates warm fluid is placed in the urethra to protect it from cold temperatures. Next, six to eight slender cryoprobes are inserted through small incisions into the prostate gland. Liquid argon is circulated at the tips of the cryoprobes, freezing the entire prostate gland. This begins the cooling process, during which the cryoprobes freeze tissue symmetrically around the probe tip. Tissue that reaches - 40° Celsius is destroyed. The tissue is thawed to complete the cycle. The physician then administers another treatment to help ensure that all cancer cells are killed. The entire procedure lasts about one to two hours.
What does the patient experience during targeted cryosurgery?
During the procedure, the patient is under anesthesia and feels no pain.
How does the physician monitor the freezing process?
Endocare's Cryocare® control unit continuously monitors tissue temperature and treatment time, and physicians use transrectal ultrasound imaging throughout the procedure, enabling clear visualization of the process. This gives the physician assurance that the entire gland is destroyed for a successful outcome, and that surrounding tissues are unaffected. Additionally, the use of argon-based cryogen during the targeted cryosurgery procedure enables the physician to begin or stop freezing instantaneously and to achieve faster and colder freezing.
Does the argon gas leak out of the probes?
No. The probes are sealed and insulated except for the frozen area at the tips.
How does freezing kill cells?
Unlike radiation which interrupts the cell cycle over time, freezing and thawing ruptures or "pops" the cell wall causing immediate cell death. Treated cells cannot survive. By the time the procedure is over, cancer has been destroyed. If any cancer cells were missed and cancer recurs in the gland, TCAP can be repeated. It also functions the same way as a "salvage" treatment after radiation if the recurrence is still local (confined to the gland.)
What happens after the procedure?
Following the procedure, the patient waits in the recovery room until the anesthesia wears off and then, depending on how he feels, can return home immediately or spends the night at the hospital. The patient goes home with a catheter in place to help with urination for a week or two. In general, patients can resume a normal lifestyle immediately after the procedure but strenuous activity should be avoided for a few weeks. Some may experience mild soreness or swelling, but this is also common among all surgical treatments. To relieve symptoms, patients can use painkillers or ice packs as directed.
What's left in the body after prostate cryoablation?
The body's immune system takes over. As it begins "cleaning up," some dead cells are reabsorbed and dealt with as waste. The rest remain as harmless scar tissue and pose no further problem. The prostate gland loses its function. Orgasms will generally be "dry" as in RP.
Long-term side effects of cryosurgery of the prostate are similar to other therapies and may include impotence, bladder outlet obstruction, pelvic pain, chronic urgency, rectal injury, and incontinence. Patients should be aware that impotence is a common, though treatable, side effect of cryotherapy. This is due to the intentional freezing of nerves outside the prostate gland to kill cancer cells that may spread along nerve lines to the rest of the body. Freezing tissue beyond the prostate capsule is an important decision. Although this process may damage the nerves that allow a man to get an erection, most urologists advise treating such tissue because if not, cancer cells may still remain.
Does cryoablation always cause impotence?
Permanent impotence is not inevitable. Your physician may attempt a partial gland ablation based on your pathology or he may employ nerve warming devices to prevent damage to erectile nerves during cryotherapy and thereby maximize your chance of preserving erectile capability. However, in the event of extensive disease, a total freeze of a prostate gland will traumatize the nerves that control erection. The patient can still experience sexual pleasure and orgasm but may have to assist an erection with such products as prescription medication, a pump, etc. Penile rehabilitation to keep the penis tissue healthy is encouraged and may help with regaining potency (ask your doctor). Nerves regenerate slowly, and 47% of men who are fully potent prior to total gland cryoablation regain potency within 36 months (Robinson 2002).
Is nerve-sparing cryoablation possible?
Yes. Nerve-sparing cryoablation is now possible for qualified patients, thus dramatically raising the rate of immediate potency to 80% (Onik 2003). Only a doctor can determine whether nerve-sparing cryoablation is a safe treatment option based on diagnostic indicators.
What factors are used to assess the success of prostate cancer treatment?
After treatment for prostate cancer, a physician will monitor the disease carefully, checking to see if cancer recurs or spreads further. A physician uses both a prostate-specific antigen test (PSA) and prostate biopsies following treatment to keep cancer in check. The PSA test can detect elevated blood levels while a biopsy shows if cancer is present in the prostate tissue.
Who is a candidate for targeted cryosurgery?
The best candidates for cryosurgery are men with Stage T1-T3 disease and high Gleason scores and PSA levels. In these patient populations, cryosurgery has been found to be safe, effective, and medically necessary. Because targeted cryosurgery can be repeated if all the cancer cells aren't destroyed, some patients choose the treatment for this reason. Others turn to targeted cryosurgery for treatment if radiation therapy or brachytherapy has failed.
How many prostate cancer patients have been treated with cryosurgery?
Thousands of men have received cryosurgery to treat prostate cancer and Dr. Wirtshafter himself has performed nearly 1000 procedures. This therapy, first introduced in the 1960s, has seen dramatic improvements with the use of temperature monitoring, argon-based cryogen, and ultrasound guidance techniques. The temperature monitoring and ultrasound visualization used in targeted cryosurgery allow the physician to precisely freeze the prostate gland while sparing other critical areas of surrounding tissue. The use of argon-based cryogen provides physicians with better control and accuracy, ensuring that a freezing level of – 40°C is achieved and confined to a specific area.
---
Our Locations
Urological Consultants of Florida
12411 Biscayne Boulevard
North Miami, FL 33181

777 East 25th Steet, Suite # 420
Hialeah, Florida 33013

Phone: (305) 575-2771
Get Directions
---