Miami urologists Dr. David Robbins and Dr. Amery Wirtshafter specialize in the treatment of female urinary incontinence.
Urinary incontinence is a condition where there is a loss of control in managing the flow of urine from your body.
Approximately 17 million women in the U.S. encounter urinary incontinence in their lifetime. This condition can occur in women between the ages of 18 and 60 and beyond and is usually a result of the urethra not being closed tightly enough to keep urine in the bladder or spasms of the urinary bladder that overwhelms the ability of the urethra to prevent leakage. Symptoms vary from:
An inability to prevent leaking urine when exercising or other involuntary actions such as coughing or sneezing.
An overwhelming urge to urinate often causes them to urinate before getting to a bathroom.
TREATMENT OPTIONS
Behavior therapies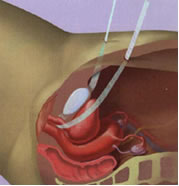 Behavior modification is used to train one's bladder and sphincter muscles by decreasing fluid intake and by prompting or scheduling voiding.
Pelvic muscle exercises
Called Kegel exercises, these exercises commonly are intended to strengthen weak muscles surrounding the bladder.
Protective undergarments
Basically, these are pads undergarments designed to absorb leaked urine.
Catheter
These tubes are inserted into the urethra to collect urine into an external drainage bag. These are generally left in place 24 hours a day.
External devices
Called a Pessary, this device is designed to apply pressure to help reposition the urethra permitting it to close tightly. It features a stiff ring that is inserted into the vagina to exert pressure press against the wall of the vagina and urethra.
Bulking injections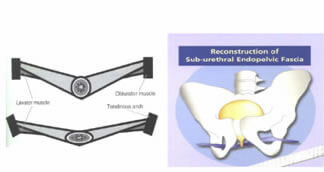 Bulking agents such as collagen are injected directly into the urethral lining to firm and bulk up the urethral lining so that the urethra can close more tightly.
Medications
There are a number of medications to treat incontinence caused by the urge to continually void. Where incontinence is stress-related, there are no medications to treat this. For incontinence caused by a combination of both urge and stress, drug therapy may be helpful in treating the urge component.
Minimally Invasive Slings- Surgery for Urinary Incontinence
We are proud to have specific expertise in the placement of minimally invasive urethral slings. Slings are designed to prevent urinary leakage by supporting the urethra the way your body was designed to. Slings are minimally invasive, effective, outpatient treatment for urinary incontinence. Most patients experience immediate results with significantly less or no bladder leakage.
There are many different available techniques to surgically repair stress urinary incontinence, however, both the tension-free TVT (Transvaginal Tape) and TOT (Transobturator Tape) have become the most popular methods of repair due to their high rate of resolution of incontinence and their minimally invasive nature. Both procedures basically are performed by making a 1 cm vaginal incision over the midportion of the urethra and placing a plastic-like piece of meshed tape known as polypropylene underneath the urethra to add support, thereby preventing leakage of urine in the context of coughing, sneezing, standing, sitting, jumping and even during sexual intercourse. During the TVT (Transvaginal Tape) procedure the ends of the sling are tunneled under the pubic bone whereas in the TVT (Transobturator Tape) procedure the ends of the tape are tunneled laterally. Both procedures are minimally invasive same-day surgeries.
---
Request Your Consultation Today!
To request your consultation, please call (305) 575-2771 or contact us online today!
---
Our Locations
Urological Consultants of Florida
12411 Biscayne Boulevard
North Miami, FL 33181

777 East 25th Steet, Suite # 420
Hialeah, Florida 33013

Phone: (305) 575-2771
Get Directions
---