Microdermabrasion is a popular cosmetic treatment that can help to improve the appearance and texture of the skin. At our medical spa, we offer microdermabrasion to help our clients achieve smoother, more radiant-looking skin.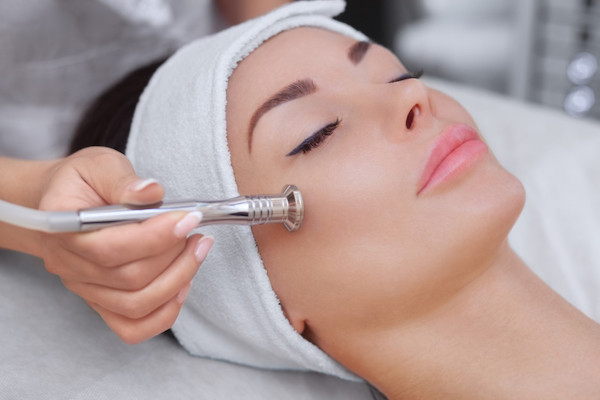 What is microdermabrasion?
Microdermabrasion is a non-invasive skin resurfacing treatment that uses a special device to exfoliate the top layer of dead skin cells. This device typically utilizes either crystals or a diamond tip to gently remove the outermost layer of skin, revealing the fresher, healthier skin beneath.
The treatment can be customized to suit each client's unique needs and can target a variety of skin concerns, including fine lines, wrinkles, hyperpigmentation, acne scars, and rough texture.
How does the procedure work?
During a microdermabrasion treatment, a trained esthetician will use a specialized device to gently exfoliate the top layer of skin. The device is moved across the skin in a precise pattern, using either crystals or a diamond tip to remove dead skin cells.
After the exfoliation is complete, a moisturizer or other skincare products may be applied to help soothe and hydrate the skin. The entire treatment typically takes around 30 minutes, making it a convenient option for clients with busy schedules.
What are the benefits of microdermabrasion?
Microdermabrasion offers a range of benefits for clients looking to improve the appearance and texture of their skin. Some of the key benefits include:
Improved skin texture and tone
Reduced appearance of fine lines and wrinkles
Decreased hyperpigmentation and age spots
Smoother, brighter, and more radiant-looking skin
Increased effectiveness of skincare products
Minimal downtime and quick recovery time
Is microdermabrasion right for me?
Microdermabrasion is generally safe for most people and can be a great option for those looking to improve the overall appearance and health of their skin. However, it may not be suitable for everyone, particularly those with active acne or other skin conditions. A consultation with one of our experienced estheticians can help determine if microdermabrasion is the right choice for you.
If you are interested in learning more about microdermabrasion and how it can benefit your skin, contact our medical spa today to schedule a consultation. Our team of professionals is dedicated to helping our clients look and feel their best, and we are here to help you achieve your skincare goals.
---
Request Your Consultation Today!
To request your consultation, please call (305) 575-2771 or contact us online today!
---
Our Locations
Urological Consultants of Florida
12411 Biscayne Boulevard
North Miami, FL 33181

777 East 25th Steet, Suite # 420
Hialeah, Florida 33013

Phone: (305) 575-2771
Get Directions
---