A TARGETED PROSTATE BIOPSY FUSES MRI AND ULTRASOUND TO PROVIDE A MORE PRECISE WAY TO LOOK FOR PROSTATE CANCER

Prostate cancer can be difficult to detect and deciding what to do about it once it is diagnosed can be even tougher on both patients and physicians. When aggressive prostate cancer is discovered, we want to be able to treat the patient with prompt and aggressive therapy to provide a cure, however, we also don't want to subject patients with low grade and indolent prostate tumors to overly aggressive treatments that may have side effects and impair quality of life without and a clear benefit to the patient's health.
Fortunately, an innovative technology exists that helps urologists to both diagnose prostate cancer and to help differentiate between aggressive and indolent disease. This innovative technology is called a Targeted Prostate Biopsy. Targeted biopsies fuse a prostate MRI with real-time prostate ultrasound to more precisely target prostate cancer during a biopsy. At Urological Consultants of Florida, we have been providing patients with the opportunity to have this more modern type of biopsy for years. In fact, at Urological Consultants of Florida, we are one of the first centers in South Florida to offer patients MRI Ultrasound Fusion Targeted Prostate Biopsy.
What are some of the drawbacks of a traditional random prostate biopsy?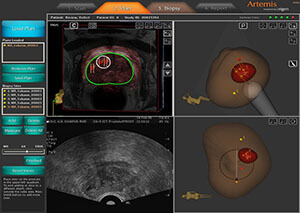 The traditional transrectal ultrasound-guided prostate biopsy technique has not changed for decades. Although real-time prostate ultrasound is used during the biopsy, ultrasound is not able to differentiate areas of prostate cancer versus benign prostate tissue and so urologists typically choose between 12 and 24 random areas to perform needle biopsies. This technique is essentially blind and so the urologist may miss areas of aggressive cancer outside of the traditional prostate biopsy grid or the biopsy may lead to the diagnosis of random areas of inconsequential prostate cancer resulting in unnecessary treatments for patients.
Why is MRI ultrasound fusion targeted prostate biopsy an improvement over the traditional biopsy?

An MRI is significantly better than an ultrasound at detecting areas of concern in the soft tissue of the prostate. Although the MRI cannot make the diagnosis of prostate cancer, it can highlight suspicious areas that warrant further investigation with a prostate needle biopsy. MRI scanners however are not readily available in urology offices and their cost and bulkiness make them difficult to consider as ideal locations to perform a prostate biopsy. With the above, considerations in mind, researchers have developed software that allows urologists to fuse the MRI images of the prostate obtained in imaging centers with the images obtained during real-time, in office, transrectal ultrasound. This allows the urologist to be able to target the areas of greatest concern on MRI while performing an office-based prostate biopsy. During the office-based ultrasound, the suspicious areas from the MRI area laid on top of the ultrasound images in a 3 dimensional and color-coded pattern, allowing the urologist to easily target them with a biopsy needle.
What has research shows us about the benefits of Targeted Fusion biopsy over a traditional random prostate biopsy?
Research has shown that targeted prostate biopsy misses almost as many prostate cancers as a traditional prostate biopsy, however, these missed tumors tend to be low aggressiveness inconsequential tumors that likely do not need treatment. More importantly, targeted biopsy with MRI and ultrasound fusion was shown to be superior to traditional biopsy at finding tumors that are more aggressive and need to be treated. Using a modern MRI and ultrasound fusion biopsy technique, urologists can target more aggressive prostate cancers and make a diagnosis during the first biopsy and avoid a biopsy or a repeat biopsy in those individuals without cancer or inconsequential cancers.
---
Our Locations
Urological Consultants of Florida
12411 Biscayne Boulevard
North Miami, FL 33181

777 East 25th Steet, Suite # 420
Hialeah, Florida 33013

Phone: (305) 575-2771
Get Directions
---