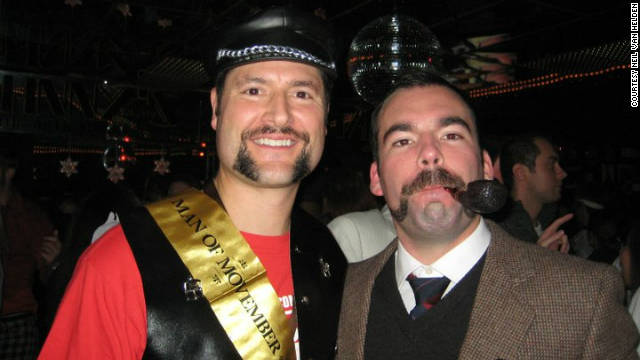 Neil Van Helden, right, proudly displays his mustache at last year's Movember event at Johnny's Hideaway in Atlanta.
STORY HIGHLIGHTS
During November men grow mustaches to raise money for men's health issues
Movember, a nonprofit group, lays out specific rules on how to maintain your mustache
Chicago, America's most mustache-friendly city, will hold the 5th annual 'Stache Bash
(CNN)
-- A word of warning: You might notice a few more unshaved upper lips proudly displayed by men in the next few weeks.
Don't worry, it's not males the world over being lazy. They're actually growing that Fu Manchu for a good cause.
During
Movember
(the month formerly known as November), men around the globe grow mustaches (hence the name) while raising money for men's health issues. Movember started in Australia in 2003. It has spread from down under to South Africa and Europe, and five years ago it reached American shores.
This will be the fifth year Sydney native Neil Van Helden has participated in the global charity event. Van Helden came to the United States two years ago for work and said he is just like any other guy.
His reasons for joining the Movember movement are simple: "I had family members deal with prostate cancer and friends with depression issues. ... There's not a whole lot out there in terms of support for men with charities. It's not talked about that much."
He said men in general aren't good at committing to regular health screenings. "We're pretty terrible at it."
But before you sign up and start growing a 'mo all willy-nilly, there are rules for this sort of thing, as laid out by the nonprofit group.
First and foremost, the registered participant must start November 1 clean-shaven.
Second, you need to maintain your mustache: Grooming is key.
There are also rules pertaining to gentlemanly behavior, as well as rules preventing the mustache from touching one's sideburns (as this is a beard) or joining the mustache's handlebars to your chin (as this is a goatee).
The goal is to get your friends to donate money to your Movember cause, which is then donated to the
Prostate Cancer Foundation
,
LiveStrong
and other men's health research and awareness programs.
So far Americans have raised $7.5 million for Movember. Worldwide, participants have raised $174 million, which, according to Movember, makes the group the largest nongovernment funder of prostate cancer research in the world.
According to the American Cancer Society, one in every six men will get prostate cancer during his lifetime, and one in every 36 will die from the disease. Behind lung cancer, prostate cancer is the second leading cause of cancer death in men.
Van Helden got some interesting looks when he started growing his stateside 'stache.
"It's a lot bigger thing in Australia. Every second guy has a mustache. Everyone applauds it," he said.
With a chuckle, he added: "Back home, the ladies like it when you have a mustache growing in Movember. Here, not so much."
First-time mustache grower Michael Erickson is excited about his friends' reaction to his new facial hair. He has never grown a mustache and was prompted to join Movember by some Twitter buddies. The "marriage of social media and Movember is perfect," said Erickson, who is actively involved in social media in his job as director of marketing for a popular restaurant group in Atlanta.
For Erickson, Movember kills two birds with one stone. "I wanted to help bring attention to men's health issues, which is something, I believe, that doesn't get the attention it deserves. Plus, I always wanted to try to grow a mustache."
Like most men, he recognizes that he doesn't go for health screenings as often as he should. "That's another reason I'm doing this: to make a commitment to myself to take better care of my own health."
At the end of the month, parties are held around the globe to celebrate those "who sacrificed their upper lip for the month."
Men dress up as famous mustache-sporting characters, such as the Village People. Van Helden went as Sherlock Holmes last year-- complete with tweed and his pants tucked into his socks. He likes that "everyone (there) has something in common. You're all there for a good cause."
'Stache soirees have grown in popularity, prompting the fifth annual "Stache Bash," put on by the American Mustache Institute. This year the bash will be held in Chicago, which was deemed to be America's most mustache-friendly city.
The event also benefits LiveStrong and the
Prostate Cancer
Foundation. The facial hair advocacy group has been around since 1965 and touts itself as "committed to battling a demonstrated discriminatory culture against people of mustached American heritage" by "promoting the growth, care and culture of the lower nose forest."
All jokes aside, the American Mustache Institute and Movember hope to raise awareness about an often less thought about issue, men's health.
So, if you happen to see more mustaches in November, don't give that person a funny look. Instead, think about donating to their hairy cause or at least be inspired to get a health screening.