Robotic Prostate Surgery for the Treatment of Prostate Cancer
---
What is da Vinci Robotic Prostate Cancer Surgery?
Prostate cancer surgery has been revolutionized with the use of the da Vinci robotic surgical system.
Da Vinci Robotic Prostatectomy is a minimally invasive option for the treatment of prostate cancer available thanks to incredible breakthroughs in surgical technology.
Da Vinci robotic prostatectomy maintains all of the benefits of definitive surgical treatment for prostate cancer while adding the benefits of a shorter hospital stay, decreased blood loss, less pain, and a more rapid return to regular activities. For these reasons, it is clear why da Vinci robotic prostatectomy has become the preferred method for removal of the prostate following early diagnosis of prostate cancer.
---
About Dr. David Robbins
Miami urologist Dr. David Robbins is a board-certified urologist and the director of the robotic surgical program at Urological Consultants of Florida. Dr. Robbins is one of Miami's top urologists performing robotic prostate cancer surgery. He has a special interest in prostate cancer having trained under the guidance of world-renowned prostate cancer surgeon and pioneer in the field of nerve-sparing radical prostatectomy, Dr. Herbert Lepor.
He refined his techniques of nerve-sparing prostatectomy for prostate cancer during his time at NYU and is now recognized by his peers and patients as one of the best prostate cancer surgeons performing da Vinci robotic prostatectomy surgery in the greater Miami region and South Florida.
Dr. Robbins is performing da Vinci robotic prostatectomy surgery for prostate cancer treatment on a weekly basis with excellent results with respect to prostate cancer cure, urinary continence, and maintenance of erectile function. Dr. Robbins is currently performing da Vinci robotic prostatectomy procedures for prostate cancer at Mount Sinai Medical Center in Miami Beach and Aventura Hospital and Medical Center in Aventura.
Why Choose Dr. David Robbins?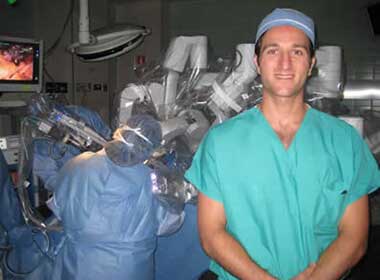 Miami urologist Dr. David Robbins trained at New York University and learned how to perform robotic surgery from world leaders in the field of prostate cancer surgery and da Vinci robotic surgery. This specialized training in robotic prostate cancer surgery along with Dr. Robbins' intense drive toward improvement has helped him to develop the skills necessary to provide patients with the highest quality robotic surgery outcomes especially with regard to prostate cancer cure, urinary continence, and maintenance of erectile function.
In addition to patient satisfaction with the functional aspects of robotic prostate cancer surgery, Dr. Robbins is highly appreciated by his patients for the personal care that he delivers and his genuine compassion. For these reasons, Dr. David Robbins is considered by many to be the best urologist specializing in robotic prostatectomy surgery and prostate cancer treatment in Miami, Florida.
---
Why Robotic Prostate Surgery?
During open radical prostatectomy (removal of the prostate) for prostate cancer, the prostate is removed using a large midline incision from the umbilicus to the pubic bone. The major drawback of this approach is not only the size of the incision but also the stretching of the abdominal muscles and skin that is necessary to place a retractor to gain the appropriate visualization in order to perform an open prostatectomy. This large incision can take longer to heal and results in increased post-operative pain and impaired mobility.
Da Vinci Robotic Prostatectomy Procedure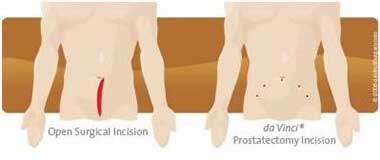 One of the many advantages to da Vinci robotic prostatectomy for prostate cancer is that it can be performed through five tiny incisions and the prostate removed through the umbilicus at the end of the procedure. This leads to less post-operative pain and scarring and a quicker return to regular activities. Additionally, the view of the surgical field afforded by the 3D stereoscopic display means that the surgeon has a much clearer view of the nerves and blood vessels surrounding the prostate which helps to minimize blood loss and reduces the risk of damaging the nerves responsible for continence and erectile function.
During da Vinci robotic prostatectomy for prostate cancer, the prostate gland and seminal vesicles are separated from the bladder and urethra and then these two structures are reconnected over a foley catheter to maintain a contained urinary channel. For advanced disease, the pelvic lymph nodes can be sampled to verify that the disease has not spread beyond the prostate.
---
What is the "robot"?
Da Vinci Robotic Surgical System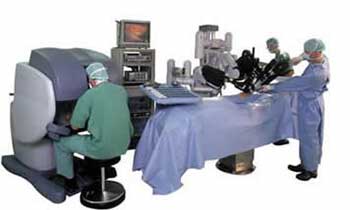 The robot itself consists of two units. The Patient-side cart has four robotic arms for carrying out the surgery; one arm holds a camera and the other three hold instruments. The surgeon sits at a console with a stereoscopic 3D view of the operating field. Unlike a conventional (2D) screen, this allows the perception of depth which makes accurate surgery much easier. Beneath the display are the master controls which translate the surgeon's hand movements in real-time to the movement of the robotic arms and instruments. The system is designed to remove tremors and allow very precise movement.
---
Patient Testimonials
"Dear Dr. Robbins,
I wanted to send you this letter to convey my and my family's appreciation for your excellent surgical skills and the care by your staff that I have received.
The robotic prostatectomy you performed on me has gone far better than I ever anticipated. The care at Aventura Hospital was wonderful and the room was very comfortable for me and my family.
My surgery recovery went very smoothly as well. Within three days after the surgery, I did not need any pain medications. Within four days after the catheter was removed, I had full control of my bladder. And within two weeks after surgery, I did not suffer from any erectile issues. I addition, I was able to return to the gym four weeks after surgery and within five weeks after surgery, I was back to my regular run and workout schedule.
All my fears about potential surgery side effects are erased. Now I am focused on my battle fighting cancer. I am praying that the early detection combined with the removal of my prostate glad will prolong my life.
Please convey my thanks and appreciation to your staff as well. I followed all instructions provided to me for both the pre-surgical and post-surgical process to a T. I am so glad I chose you as my surgeon. Our community is blessed to have someone with your surgical skills, knowledge, and care available to help those of us in dire need. Many many thanks again from me and my family! We are truly appreciative for all the great care you and your office have provided to me."
---
"In July 2012, a blood test displayed a PSA jump from 2.5 to almost 6 from the previous year. My primary care physician (PCP) thought it to be a positive negative reading and suggested more blood work; the results were the same. I'm 49 years old and with prostate cancer in the family history, he suggested a biopsy. Sadly, it was determined that I had prostate cancer. My PCP referred me to Dr. Robbins, who quickly arranged for MRIs. After reading the results report, he undeniably suggested robotic removal of the prostate. I was warned by Dr. Robbins of the possible side effects and the reasons for not using radiation as an option because impotence and incontinence were more possible than after removal surgery. In September 2012, my prostate was removed. My recovery was fairly painless -- uncomfortable, but it got easier each day. My first follow-up visit three months after surgery showed a zero margin, which in my mind makes me believe Dr. Robbins saved my life from cancer. I'll have blood work for the following eight months with confidence and hope that I'm cured."
---
"I was diagnosed with prostate cancer in November 2010. On February 15, 2011, I registered at Mt. Sinai Hospital for robotic surgery to be performed by Dr. David Robbins and his team. Deep inside, I was expecting the worst. These were the results: 1) Pain - No pain (Percocet was prescribed. Didn't have to use any). 2) Overall Discomfort - The same night of the surgery I walked the hallway on my hospital floor. 3) Incontinence - After the catheter was removed I used pads for a few days. Not saying that every once in a while I got a little wet, but three weeks after the surgery it was 95% under control. Today, fine and dandy.
I thank the Good Lord for delivering me into the gifted hands of Dr. Robbins. An event that causes so much distress because of the obscure, turned out to be a positive, very bearable life-changing experience."
---
"Just to let you know that I'm doing very well thank you for your attentiveness and kindness. Please convey my thanks to your staff.
I had a very smooth flight back home. I am still amazed that I never had pain or fever. I already have 99% control of my bladder. I have no words to thank you more!!
I went to an oncologist here in ******* for a check-up and PSA test. The results are excellent <0.01. If I need to return to Miami, I will call in advance to make an appointment with you.
God Bless You!!!"
---
Dr. Robbins' Expert Robotic Team
Please click here to download and print a copy of Dr. Robbins' preoperative and postoperative instructions for da Vinci robotic prostatectomy.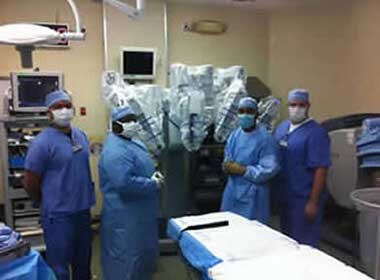 ---
In This Section:
---
Our Locations
Urological Consultants of Florida
12411 Biscayne Boulevard
North Miami, FL 33181

777 East 25th Steet, Suite # 420
Hialeah, Florida 33013

Phone: (305) 575-2771
Get Directions
---