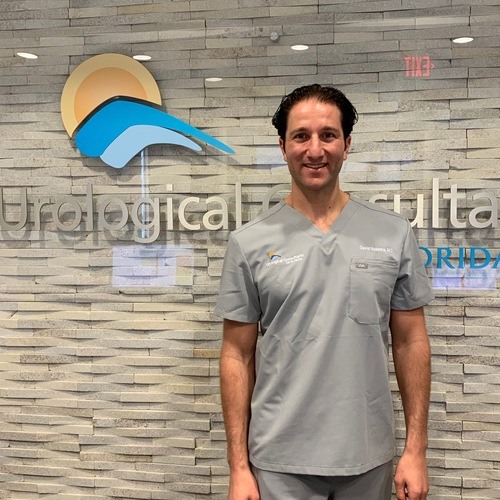 A Tear-Free Vasectomy is a term branded by an elite group of board-certified urologists dedicated to the art of performing a minimally invasive vasectomy using only the most modern techniques to maximize efficacy and minimize patient discomfort.
There are many urologists and even other non-surgically trained physicians performing regular vasectomy procedures, however, if you are looking for the best option available from a highly trained and experienced urologist, you may want to consider choosing David Robbins, MD for a Tear-Free Vasectomy.
WHAT MAKES A TEAR-FREE VASECTOMY UNIQUE?
Board-certified urologist
High volume of vasectomy procedures performed
No-Needle Vasectomy
No-Scalpel Vasectomy
Fascial interposition, separation of vasal ends, mucosal cautery
Modern and comfortable office and procedure room
15 minutes or less of procedure time
WHAT IS A BOARD-CERTIFIED UROLOGIST?
A board-certified urologist is a genitourinary surgeon that specializes in the diagnosis and treatment of disorders of the urinary tract in males and females as well as the reproductive system in men.
Board certification requires the completion of a five or six-year training program in urology certified by the Accreditation Council for Graduate Medical Education, passing a written exam given by the American Board of Urology, completing a year of practice, and then passing an oral examination given by a board member.
The purpose of board certification is to assure the public that a member has received the appropriate training to practice in their specialty and meets the highest standard of academic, surgical, and professional standards.
HOW MANY VASECTOMY PROCEDURES PER YEAR DOES A TEAR-FREE VASECTOMY SPECIALIST PERFORM?
A Tear-Free Vasectomy specialist performs 4 to 8 vasectomy procedures per week or up to 200 to 300 procedures every year. Experience is essential when it comes to optimal outcomes with vasectomy procedures.
WHAT IS A NO NEEDLE VASECTOMY?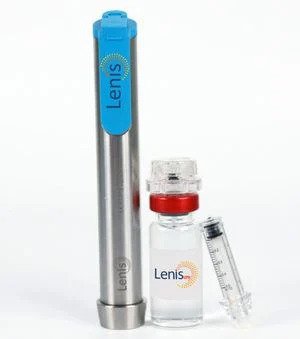 A No Needle Vasectomy requires the use of a pressure-activated injector device or specifically the Lenis Needle-free Injection System with the Lenis Needle-free Safety Syringe to inject lidocaine into the skin and peri vasal soft tissue instead of using the traditional 25 gauge needle.
The Lenis Needle-free system is significantly less painful than a traditional needle injection. Most patients describe it as being gently snapped with a rubber band. Additionally, because the Lenis Needle-free system is pressure-activated and disperses microscopic amounts of anesthetic deep into the scrotal wall and peri vasal tissue, significantly less medication (0.5cc as opposed to 5cc) is used to anesthetize the area resulting in less soft tissue swelling and edema.
A traditional needle injector has to make several passes in order to anesthetize the area, each time resulting in micro-perforations of small blood vessels and trauma to the area potentially causing increased post-procedure swelling and discomfort.
WHAT IS A NO-SCALPEL VASECTOMY?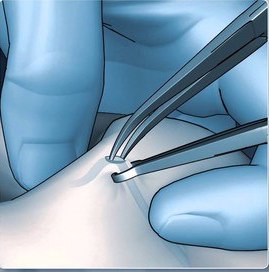 A No-Scalpel Vasectomy or NSV is a vasectomy using a sharp-tipped hemostat that is used to puncture and spread the scrotal wall tissue as opposed to using a scalpel to incise the tissue.
The no-scalpel technique results in a smaller hole in the skin typically 2-4mm and less bleeding from the incision site.
A Tear-Free Vasectomy specialist will only make one hole in the middle to perform the entire procedure as opposed to one incision on each side of the scrotum with a traditional vasectomy.
WHAT VASECTOMY TECHNIQUES ARE EMPLOYED DURING A TEAR-FREE VASECTOMY TO IMPROVE VASECTOMY EFFICACY?
A Tear-Free Vasectomy guarantees the patient the most modern and up-to-date techniques are used to increase the probability of a successful vasectomy. Although the risk of pregnancy after a vasectomy is only 1 in 2000, it is reassuring to know that the chances of persistent motile sperm after a vasectomy can be minimized with the excellent surgical technique.
Fascial interposition involves capping the ends of the vas deferens with a small cap of tissue that surrounds the vas thereby preventing two divided ends from touching each other after the procedure and forming a new connection during the healing process. Removing a small segment of vas during the procedure creates some distance between the two divided ends and further decreases the probability of a new connection forming.
Finally, mucosal cautery is employed during a Tear-Free Vasectomy using a needle tipped electrocautery to form a long segment of scar in the inner aspect of the vas to prevent sperm from being able to pass if a new connection is able to form despite fascial interposition and separation of the vasal ends.
A FULL TEAR-FREE VASECTOMY REQUIRES A MODERN AND COMFORTABLE OFFICE AND PROCEDURE ROOM!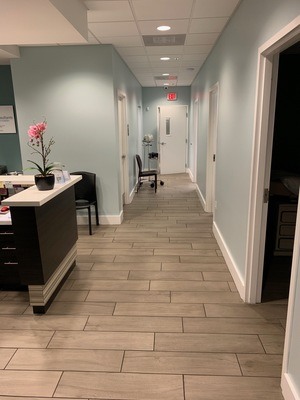 A Tear-Free Vasectomy with Dr. Robbins at Urological Consultants of Florida is hassle-free on the day of the procedure. This includes a friendly greeting at the front desk, an on-time vasectomy appointment, and a comfortable and clean environment.
WHY IS IT IMPORTANT THAT A TEAR-FREE VASECTOMY IS PERFORMED IN 15 MINUTES OR LESS IN THE OFFICE?
A quick and efficient procedure indicates that your doctor has the skill and experience to complete the procedure efficiently without struggle. A prolonged procedure time likely indicates that the physician lacks experience and may be struggling to complete the procedure. The longer the procedure time includes more manipulation of tissue underneath the skin likely contributing to post-operative pain and swelling. The quoted literature indicates that the incidence of chronic testicular pain after a vasectomy is about 1-2% and this may be increased with surgeon inexperience and increased procedure times.
Tear Free Vasectomy Specialists include:
---
In This Section:
---
Our Locations
Urological Consultants of Florida
12411 Biscayne Boulevard
North Miami, FL 33181

777 East 25th Steet, Suite # 420
Hialeah, Florida 33013

Phone: (305) 575-2771
Get Directions
---