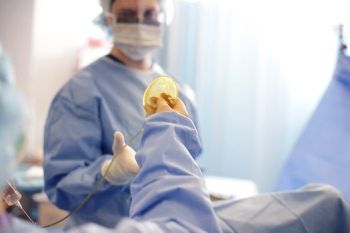 What is a minimally invasive penile implant?
David Robbins, MD specializes in minimally invasive penile implant surgery for erectile dysfunction.
As opposed to a traditional implant performed through a large incision between the penis and scrotum in the delicate scrotal tissues, Dr. Robbins approaches penile implant surgery through a small 2-centimeter incision just above the penis.
All three components of the penile prosthesis are placed through this small incision with minimal trauma to the penile and scrotal tissue resulting in significantly decreased scrotal swelling after the surgery when compared to traditional penile implant surgery.
After a minimally invasive penile implant procedure performed by Dr. Robbins' patients can typically activate their implant in just a few weeks and return to sexual activity.
What is penile girth enlargement with hyaluronic acid filler?
As a non-non surgical and safe alternative to traditional penile girth enlargement procedures, hyaluronic acid fillers have gained popularity among men seeking to enhance their penis size and appearance. With a quick and minimally-invasive procedure, men can experience an immediate increase in girth. The results are natural-looking and customizable to the patient's desired outcome. This procedure has high patient satisfaction rates and minimal downtime, making it a convenient option for men looking to improve their confidence and sexual satisfaction.
Does experience matter when choosing a urologist for a penile implant?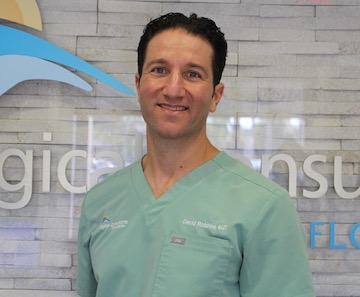 When it comes to optimal outcomes with penile implant surgery, training and experience are important. Dr. Robbins learned the art of the minimally invasive penile implant procedure while training at the world-renowned New York University urology residency program.
While practicing in private practice in Miami for greater than 10 years now, Dr. Robbins has helped countless men in South Florida and around the world to return to normal sexual activity and regain a sense of confidence through minimally invasive penile implant surgery.
What is a penile prosthesis?
A penile prosthesis is a surgical option for men with erectile dysfunction in which a synthetic device is placed into the erectile capsules of the penis in order to gain rigidity during sexual intercourse.
The implants can either be malleable or inflatable devices.
Dr. Robbins' minimally invasive reservoir placement technique

Dr. Robbins performs 3-piece penile implant placement through a 3cm lateral incision a few centimeters above the penis. Using a technique developed by Dr. Robbins himself, he is able to manipulate that same incision above the pubic bone and dissect down to the fascia and place the implant reservoir in the space just above the bladder under direct vision. There are many advantages to this technique over a traditional technique in which the reservoir is placed through the external ring in the groin. These advantages include:
Avoid blind placement of the reservoir through the inguinal ring
Less risk of feeling the reservoir under the skin
Reduction of the risk of migration of the reservoir
Less risk of intestinal or vascular injury when placing the reservoir
Lower risk of postoperative hernia development
---
Malleable Penile Implants
Malleable devices remain rigid at all times and patients must bend the prosthesis straight when they want to engage in sexual activity. Malleable penile implants are less commonly used and are mainly offered to patients without the manual dexterity in their hands to activate an inflatable prosthesis.
Inflatable Penile Implants
Most men choose an inflatable penile implant. The advantage of the inflatable prosthesis is that it has a more natural appearance with an erection and is easier for patients to conceal when they are not active.
---
A penile implant is not a first-line therapy for erectile dysfunction. It should only be offered to patients who have failed first and second-line treatment options for erectile dysfunction and for patients highly motivated to be sexually active. Penile implants can also be recommended in cases of penile scarring such as with Peyronie's disease when pain or severe curvature prevents patients from being sexually active.
Typically, penile implant surgery takes under an hour and can be done with a 23-hour hospital outpatient admission or patients can be discharged the same day. Patients can activate the prosthesis and engage in sexual activity typically within 2 to 6 weeks of the procedure mostly dependent on the amount of post-operative swelling.
How does an inflatable penile implant work?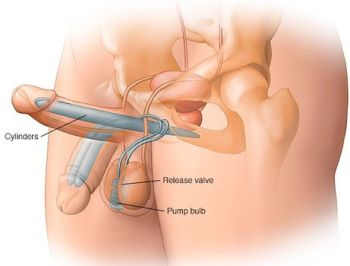 An inflatable penile implant consists of a pump located in the scrotum, a reservoir of saline tucked under the pubic bone, and two hydraulic capsules placed into the penile erectile capsules known as the corporal bodies.
When patients would like to activate the prosthesis, they will use their fingers to squeeze the pump located between the testicles in the loose scrotal skin. Compressing the pump allows the fluid in the reservoir to flow into the two hydraulic cylinders located in the penile erectile bodies. When the cylinders are full of fluid, this results in a straight and very rigid erection.
When patients would like to deflate the implants, they simply press and hold a small valve easily palpable at the top of the pump device located in the scrotum thereby causing the fluid to flow out of the cylinders and into the reservoir resulting in a flaccid penis
Is a penile implant noticeable to a partner or in a locker room?
A penile implant is not highly noticeable given that all of the components are surgically implanted under the skin. On close visual inspection, there may be a small scar just above or beneath the penis, but this is typically concealed in the pubic hair or underneath the penis. A man with a penile prosthesis does not have to fear embarrassment in a public restroom or locker room. A sexual partner would be able to feel the pump in the scrotum with manual inspection, but the erection would be similar to or more rigid than a natural erection.
Are patients satisfied with penile implant surgery?
Penile implant surgery has the highest efficacy and patient satisfaction of all treatment options for erectile dysfunction including oral agents, injections, vacuum devices, and shockwave therapy. Satisfaction rates are reported in the literature to be 80% to 90% with greater than 90% of patients able to achieve an erection satisfactory for sexual intercourse.
Is penile implant surgery safe?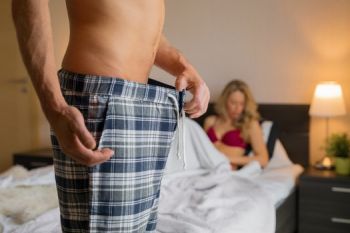 All surgical procedures carry some risk. Possible complications associated with the penile implant surgery include the risk of infection (less than 5%), bleeding, pain, mechanical failure of the device requiring removal or replacement, erosion of the surrounding skin and tissue or injury to intra-abdominal structures upon placement of the reservoir.
When considering penile implant surgery patients should have an extensive consultation with their urologist regarding the risks and benefits of the procedure prior to moving forward with surgery.
Is penile implant surgery covered by insurance?
Penile implant surgery is typically covered by most Medicare plans and commercial insurances especially when the indication is medically justified, however, insurance coverage does vary from state to state and even within regions of individual states.
It is highly recommended to discuss your benefits with your insurance plan prior to proceeding with surgery. At Urological Consultants of Florida, our surgical coordinator can assist you in seeking this information from your insurance carrier.
---
Request Your Consultation Today!
To request your consultation, please call (305) 575-2771 or contact us online today!
---
Our Locations
Urological Consultants of Florida
12411 Biscayne Boulevard
North Miami, FL 33181

777 East 25th Steet, Suite # 420
Hialeah, Florida 33013

Phone: (305) 575-2771
Get Directions
---
Additional Reading In This Section: